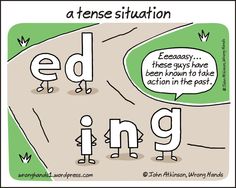 "Yesterday is history, tomorrow is a mystery, today is a gift, which is why we call it the present."
― Bill Keane
One of my favorite quotes by Bill Keane talks about the concept of time, or tense as we say in English grammar. The quote tells us that the past cannot be changed, the future is uncontrollable, and that the present moment is all that we have. I personally find a lot of truth is this statement, but does that mean that you only need to learn how to use the PRESENT tense? Of course not! If that were true then you would not be able to tell me about your trip to Europe last year, or your plans to visit China next year. Plain and simple: The BASIC tenses in English (or any language you are learning) are necessary in order to be able to properly communicate and be understood by native speakers.
Many of my students have trouble organizing the different tenses in English. In order to help ESL students understand the tenses better, I created this blog to explain them as simply as I could. Below, you will find the BASIC tenses in BOLD (dark black). These are the most common tenses and should be mastered if you want to be able to communicate in English. You should keep in mind that the "simple" tenses are just that! SIMPLE! They are clear, concrete ideas. They have specific forms. The more complex tenses are listed below the BASIC tenses so that you can get an idea for their uses as well.
Now, let's take a look at the tenses in use:
Present Simple: This moment. = what is happening/occurring NOW.
"I teach. I work. I sleep. I eat."
Present continuous: an ongoing action in this moment. "I am teaching/working/sleeping/eating."
Present perfect: something that happened in the recent past, which continues still or ended (yet, already), with an emphasis on RESULTS (what / how much / how often). "I have taught/worked/slept/eaten."
Present perfect continuous: an ongoing action that happened in the recent past, with an emphasis on DURATION of time (how long). "I have been teaching/working/sleeping/eating (since, for + time)."